Maui is a wonderful place to enjoy Independence Day. Traditionally, Lahaina town is the place to be for the July 4th festivities on Maui. After a two-year hiatus, the Lahaina traditions are back for 2022!
Lahaina Entertainment and Fireworks Show 
We have received official word that Lahaina's entertainment and fireworks are back on for 2022!
Live music performed by Chop Suey Jazz Band, June Skies, and the Maui Community Band will entertain all at Campbell Park in Lahaina from 5 pm until before fireworks time. Campbell Park is at the intersection of Front Street and Dickenson Street in Lahaina. It's a lovely park with lots of shade trees.
The Lahaina Spectacular Fireworks Show is set for 8 pm. You can watch the fireworks show from any ocean viewpoint along Front Street as well as from some of the oceanfront restaurants. The fireworks shoot from an off-shore barge, so surrounding beaches may have a good view as well, though more distant.
A fun and unique way to see the fireworks show is on a special July 4th fireworks boat cruise.  These fireworks boat tours sell out every year. If you are considering one, you should book quickly. We still have a few boats with availability as of today June 22,2022
"4th of July" Makawao Stampede Rodeo
The small upcountry town of Makawao hosts its annual 4th of July rodeo. Please note that though this rodeo is called a 4th of July rodeo, the specific dates of this year's events run from July 1 – July 3. There are no events on July 4th.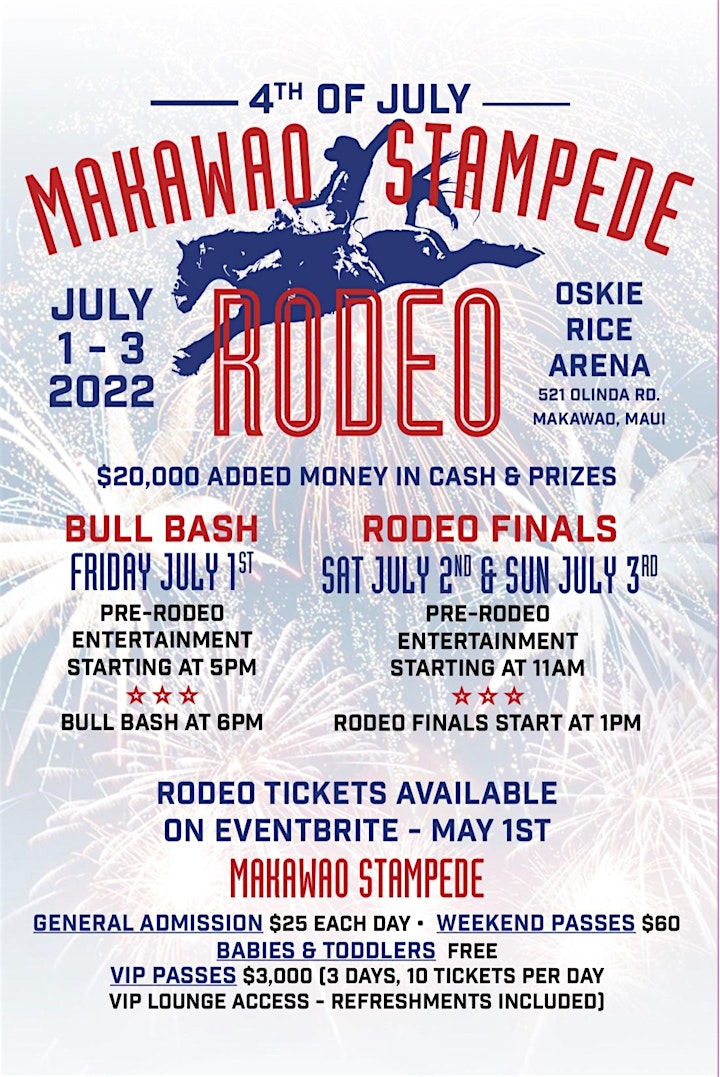 —
Notes:
Events are subject to change without notice.
More events may be added, so check back for any additions.
As fireworks are best viewed at night, for reference, sunset on July 4th in Lahaina will be at 7:12 p.m.